Decking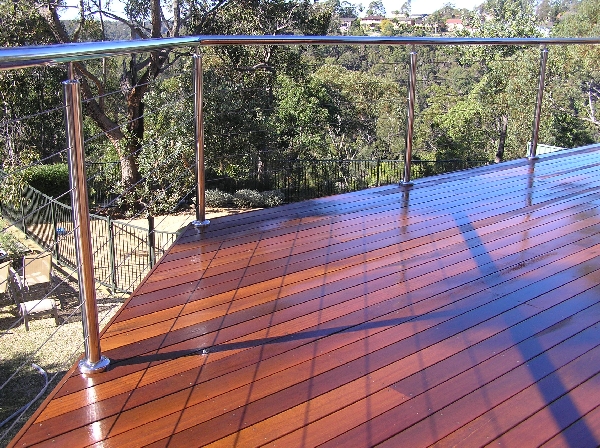 There are various names that people use these days to refer to decks. They can be called Verandas, Patios or Decks.
At Parslow's Decks one thing is for sure, "we build quality decks that last" – Alex Parslow.
Types of materials and timber decks
Treated Pine
Hardwood
Composite Decking
Steel Frame Decks
Fibro Cement Sheet and Tiles
Hardwood Decks
Hardwood decks are made from hardwood timber making them more durable and hard wearing.
When considering a Hardwood Deck you should think about it in conjunction with the design and structure of your house. Also the external surroundings should be taken into consideration as the colours and textures of these play an important role in designing your deck.
There are 2 main types of Hardwoods that are used in Australia they are Australian Hardwoods and Imported Hardwoods.
Australian Hardwoods
Australian Hardwoods are plantation grown and forest managed hardwoods that meet all Australian Standards. This ensures a better durability class as all these hardwoods are harvested properly with proper milling processes and therefore are a better timber overall.
Imported Hardwoods
Imported Hardwoods come in a variety of grades of colour and durability classes. They are forest hardwoods and are generally cheaper to purchase as the standards they undergo aren't as high as the Australian Hardwoods.
Hardwood Decks require more time to install due to the fact that they need to be predrilled before installation and therefore the cost to build one of these may be a little more expensive than other decks made from other materials.
No Deck is too large or small for us to design and build, so please Contact Parslow's Decks today for a FREE measure and quote.
Treated Pine Decks
Treated Pine Decks are made from a soft wood, that is real pine, treated with a chemical to prolong the life of the wood. This is done to prevent white ants, wood rot and insect infestation.
Treated Pine Decks are now 'Arsenic Free' to meet Australian Standards, they are treated to satisfaction of government rulings.
Composite Plastic Decking
Composite Plastic Decks are made from recycled milk cartons and cardboards. They are a highly durable and non rotting alternative to timbers. Composite Plastic Decks are also available in a variety of colours so there is no need for staining or painting and the greatest thing about these Decks is that they are environmentally friendly. They have become very popular and are being used in a variety of environments and for various purposes.
Please feel free to Contact Us and enquire about Composite Plastic Decking.
Steel Decks / Bush Fire Decks
Steel decks have a steel frame structure and are a requirement for houses within bush fire areas/zones.
Steel decks are used where the risk of bush fires is extremely high and therefore no timbers are suitable for these areas
Bush Fire Decks
'Bush Fire Prone Areas' are categorised into 3 levels under the standard depending on the determined level of bushfire attack (i.e.. Levels 1, 2 or 3). If your house is built within what is known as a 'Bush Fire Prone Area' there is a self assessment process that you can use to determine the level of attack or if you wish you can also engage a consultant to guide you through it.
The self assessment booklet can be found at
Different levels of attack would mean that different timber types would need to be used according to the level of attack.
The following timbers are known as 'bushfire timbers' and may be suitable for bushfire prone areas:
Blackbutt
Kwila (Merbau)
Red Iron Bark
Red River Gum
Silver Top Ash
Spotted Gum
Turpentine
Parslow's Decks has been building bush fire decks (using both approved timbers or straight out steel decks) for many years and therefore has great experience in this area.
If you are considering building a deck and think that your house could be in a bushfire prone area, please Contact Us on (02) 9531 2774 and we will gladly guide you through all the necessary steps to make sure that your deck is built appropriately to meet the NSW Rural Fire Service's Standards.
Tiled Decks
At Parslow's Decks we can also build tiled decks to your specific requirements. Tiled decks can be used on just about any kind of surface. The advantage of tile decks is that they can be placed over existing timber decks with a small effort by simply placing fibro sheet cement / steel and then gluing on the desired tiles. They can also be used to fit around difficult areas such as pipes or into obscure areas.
Another advantage is that they come in a variety of colours, shapes and sizes, making it easier to match your outdoor surroundings to your tiled deck.
Tiled decks are also very easy to clean, and also to maintain as well as repair. Tiled decks are very durable. The most maintenance that you will have to do on them is put a good preservative oil on them every 6 to 8 months. Otherwise, just wash with water or sweep with a broom.
There are also many kinds of tile styles offered in addition to modular tiles, so your choices are not limited for your deck. Whatever kind of tile you choose you can generally expect a much easier and cheaper job than having to rebuild your deck using wood and the outcome will be very good.