Roofing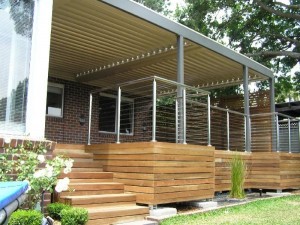 Roofing is one of the most important aspects of any outdoor area that is intended to provide a covering for shade, sunlight and so forth. When you are enjoying the outdoors, the roof is what protects you from the elements of nature. So a lot of caution and planning has to be taken when deciding the roofing for your home or your outdoor area.
Roofs have to be tough and durable to handle all kinds of weather. A roof has to be water proof and fire resistant to protect your home or outdoor area from rain, hail, snow, sleet and from the sun's heat and light.
Roofing is one of the most specialised services we offer because it is vital for covering decks, pergolas, carports, stairs, providing shade, covering entertainment areas, as well as light transmission, heat release and or containment, water proofing.
We offer all kinds of roofing services including
Re-roof houses
Roof repairs and maintenance,
Roof replacement
Parslow's Decks can help you get the roof you need. We will help you repair or replace your existing roof, or to design a new roof from scratch.
Type of roofs
Pitched Roofs
Flat Roofs
Curved Roofs
Gazebo Style Roofs
Louvred Roofs
Types of materials
Tiled Roofs
Colourbond Roofs
Polycarbonate Roofs
Glass Roofs
Thatched / Balinese Style Roofs
Timber Roofs