Pergolas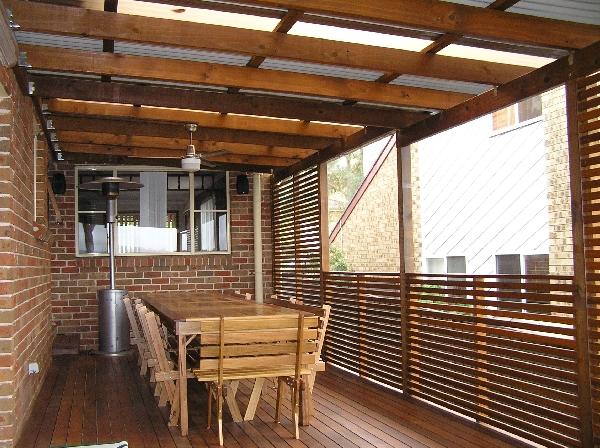 A Pergola is a wonderful way to extend the living space of your home and entertainment area, and quite simply to increase the living and entertainment space of your outdoor environment. Over the years, the pergola has become the natural addition to any new or existing home.
Pergolas not only provide protection from the elements all year round but they also allow us to entertain in comfort and style outdoors.
Types of Materials;
Polycarbonate
Colourbond
Tiled
Shade Cloth
Reed Thatch Pergolas
More information about Pergolas;
Pergolas can be flat or pitched roof pergolas – Pavilion Style, Hip & Valley, Gable/Pitched, Skillion/Flat
Provide cover/shade for outdoor entertaining areas
Protects against external elements
Pergolas can be stained or painted colours to match your home
Pergolas are popular for creating extensions, or for a deck with covering
Pergolas protect against the sun, wind and rain
Pergolas can be designed and built in all different shapes and sizes
Please note that in some cases you may need council approval to build a pergola. This is something the Parslow's Decks can help you with.
Parslow's Decks offers 7 years warranty for the building work of the pergolas, however this is subject to proper care and also suggested maintenance by builder taken on board.
Whether it is powder coated steel or painted treated pine, they are fairly similar in price as they both have pro's and con's.
Powder Coated Steel Pergolas
Powder Coated Steel pergolas have a few advantages in that there is no need to paint the pergola and also the amount of maintenance is a lot less. This makes it a very popular pergola for elderly people and also for very busy people.
Treated Pine Pergolas
Treated Pine pergolas require a little more maintenance as they do need to be painted. These pergolas are treated with a special chemical and need to be painted for external use for the warranty to apply.
Architectural Pergolas
Architectural pergolas are also commonly known as free standing pergolas. They generally do not have any roofing and are also designed by architects to suit the home owners house. These are also very popular as the shapes of these are usually quite unusual and artistic.
Arbours
Arbours are also another form of shade if big enough and also very popular with federation style homes. Plants are generally grown over the top of them and they can look very appealing.